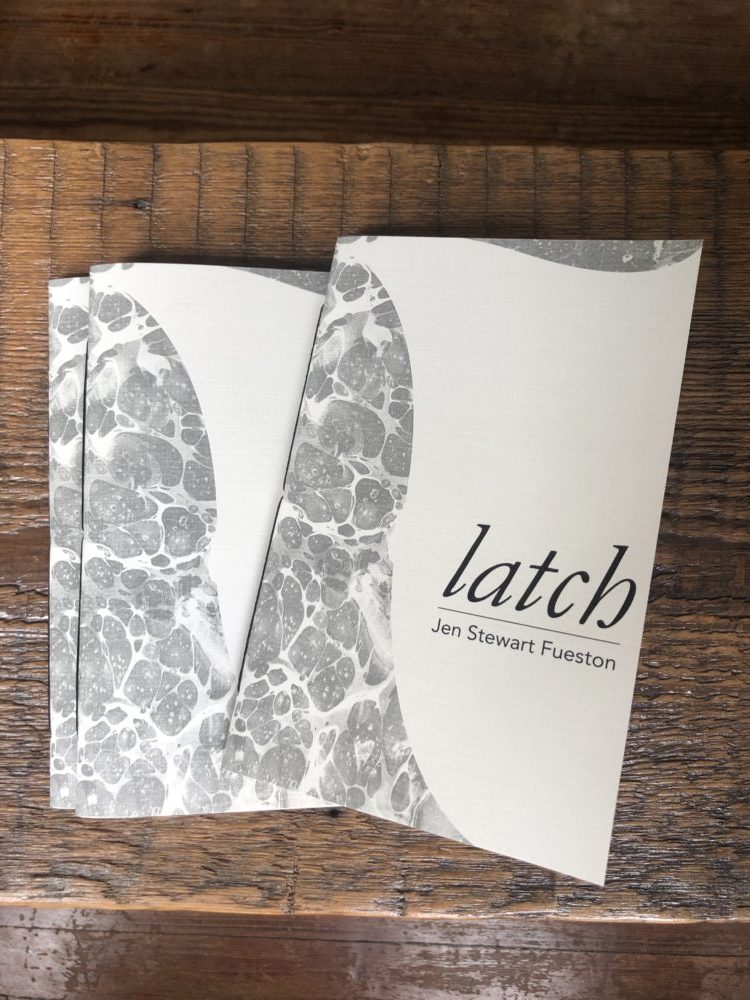 Latch: Poems by Jen Stewart Fueston
www.riverglassbooks.com
I'm catching up with some great publications that have been sent to me over the course of this year, and, particularly in this Christmas season of celebrating a birth in all its fleshly and spiritual implications, I couldn't do better than spend time with Jen Stewart Fueston's chapbook Latch.
This is a powerful short collection with an overarching theme of birth and motherhood; a perennial experience presented afresh with rich lyricism. Motherhood in these poems is something longed for and experienced on a physical, spiritual, and emotional level, from the contingencies and difficulties of conception, through the self-emptying of birth, and the loosening of the self's boundaries as a baby is breastfed (both the title term 'latch' and 'milk' are explored as potent words that function as both noun and verb). The poems are also alive to the metaphorical resonances of language; they are lucidly and sometimes playfully written, and because of this, touch on many other aspects of human experience too.
Even when not primarily evoking maternity, the poems are all personal and – to a greater or lesser degree – embodied: ('The flesh permits departure /not escape. The body quieted, not shed,' as noted in 'A Swim'). But this embodied lyrical voice is coupled with an intense engagement with the world around us, in both nature and also art and culture. Nature features throughout of course – we, our embodied selves, are inextricably part of it – but also in moments of acute natural beauty, such as the jay, spied by mother and son in 'Common Loon':
His black eyes interrogate through glass,
his tufted twitching, speckled body
bobbing white and blue,
a blue like loss that fades into more blue.
In fact, there is a lot of blue in these poems, the colour itself becoming a particular locus of nature and spirituality, frequently merged together: the rich mineral blue of the Virgin Mary's robes is the subject of 'Ultramarine', and, later, her 'deep blue robes' comfort the dead in 'Pablo C. Tiersten, 38, Kansas City'. The 'wide blue air' is actively cradled by a vacated nest in 'The Empty Nest'; the blue hues of water feature in 'A Swim' and the metaphor of a 'blue-eyed mole' for a wriggling son in 'Zookeeper'.
As well as colour, there is an insightful, but still personal, affinity with art. I loved the imaginative engagement with famous paintings, such as the female model in 'The Interior of Oude Kerk, Amsterdam' whose weary head is 'spinning with rough chores', and the reimagined Mary of Dante Gabriel Rossetti's 'Annunciation' in 'The Virgin, Home from the Mall' : 'Her lips are rose, precisely lined./ She stopped off at Sephora for this shade, thornberry.' Equally striking is the insight in 'Taking the Baby to See Rothko at the National Gallery,' where the non-figurative, visceral genius of Rothko's art is unexpectedly appreciated by an infant who is 'himself another masterpiece of bright, unsayable things.'
Stewart Fueston's skills include a vivid, often quite delightful use of imagery – I was particularly struck by the descriptions of her baby son shapeshifting through a whole menagerie of animal metaphors in the already-mentioned 'Zookeeper': as well as a blue-eyed mole he is 'a dangling possum', 'a four-limbed snake', 'the red hawk and I his next meal' and 'a bear cub against a drowsy mother' (and more). I'd like to contrast this poem with, 'Qualifications', another long-line, list-based piece which showcases Stewart Fueston's equally intense powers of perception of things in themselves. The poem should be read in its entirety for full effect, but the questions it poses make life vivid and precious:
Have you curved your hot palm around the soft crown
of a newborn's head? Have you walked in a pine forest
after rain? Have you stood in the middle of soft lit bridge watching
the sun slip into the mirror of the river? …
Taken together, these skills of imagination and observation enhance a beautifully crafted poetic voice, making it both authentically centred and wide-ranging.
Finally, there is also a poignant acknowledgment, in some of these poems, of lives not conceived, and of things broken. As Stewart Fueston reminds us in 'What Bears the Light', it is brokenness (for example of glass, or mica-flecked stone) that reflects light best, and nature shows how being broken open leads to new growth and creativity. Witnessing to such is also intrinsic to the poetry here, as is our whole human experience of gathering up and letting go, intrinsic to each of us from the very beginning as evinced in bath-time play:
Learning again from him how to want
to gather everything,
and the play the water makes
as we let it go.
('Bath Time')
Congratulations to Jen Stewart Fueston on this lovely chapbook. I hope this review inspires some more readers to seek it out.
Sarah Law